Written by:
Domenico Modugno (Italian song "Io")
Bill Giant, Bernie Baum, Florence Kaye (English lyrics)

Recorded: May 27, 1963 (first recording) / January 12, 1964, RCA Studios, Nashville TN (released master)
Released master is take 10.

Single: w/ "Ain't That Loving You Baby", 47-8440, September, 1964 (Million Seller)
Also re-released as Gold Standard Series, 447-0649, November 1965

Highest U.S. Charts Position:
#12 on Billboard Top 100

1st LP release: Elvis Gold Records, Volume 4 - February 1968
Click to download or buy
"Ask Me"
now from Amazon!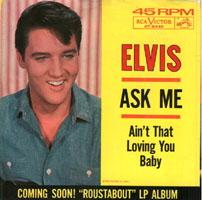 or download from iTunes:


For other versions, see
Lyrics and Downloads section below.