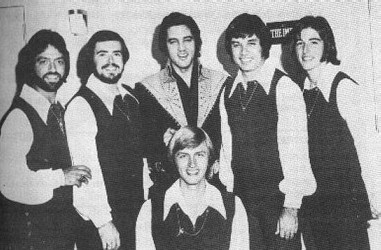 Elvis with The Imperials
My grandparents may not have been Elvis fans, but like most religious people their age from the rural Midwest, they had quite a bit of southern gospel in their record collection. I was a little surprised way back in the day when my grandma was listening to her copy of He Touched Me with me, and just before this song began, she says to me sort of conspiratorially, "I like this one." I laughed when the song started. "Bosom of Abraham" is proof that southern gospel music wasn't always serious and reverent! Elvis and the Imperials are certainly having fun with this one! Later, in footage from the film Elvis On Tour, Elvis and the Stamps Quartet are even less formal, J.D. Sumner showing off and taking a nosedive with his bass voice at the end. Folks, this is NOT a solemn hymn, okay?

The songwriters credited here (William Johnson, George McFadden, Ted Brooks) were three of the four members of the gospel group The Jubilee Four, who appeared in Viva Las Vegas. It was lead (bass) singer George "Biggie" McFadden who sang lead on "The Climb" and The Jubilee Four lip-synced the song in the movie. Besides "Bosom of Abraham", they are also credited as the writers of "I, John" which Elvis also recorded.

Despite the songwriting credits, this tune goes back much further (See David Neale's Original Version Recordings site). The earliest recording is from 1937 by The Heavenly Gospel Singers, and there were quite a few variations through the years.