Written by: Jerry Lieber, Mike Stoller

Recorded: July 2, 1956, RCA Studios, New York
Released master is take 31.

Single:w/ "Don't Be Cruel", 47-6604, July 13, 1956
Also released as 78rpm, 20-6604, July 1956
Also re-released as Gold Standard Series, 447-0608, March 1959
Also w/ "Baby Let's Play House", PB-13875, August 1984

RIAA Certified: 4 x Multi-Platinum (as of 07/15/1999)

Highest U.S. Charts Positions:
#2 on Billboard's Hot 100
#1 on Cash Box Top 100
#1 on Country Juke Box chart
#1 on Rhythm & Blues chart

1st LP release: Elvis Golden Records Vol 1 - April 1958
Click to download or buy
"Hound Dog"
now from Amazon!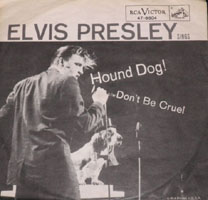 or download from iTunes:


For other versions, see
Lyrics and Downloads section below.