Written by: Jimmy Wakely

Recorded:
August 19, 1954?, Sun Studio, Memphis
(Exact date unknown. September 10, 1954 is sometimes given also but the August date is more likely)
Take number of released master is unknown.

Single:w/ "I'm Gonna Sit Right Down and Cry Over You", 47-6638, August 31, 1956
Also released on RCA, 78rpm, 20-6638, August 31, 1956
Also re-released as Gold Standard Series, 447-0611, September 30, 1958
Also re-released as Collectables DPE1-1004 4504, December 1986.

Highest U.S. Charts Positions:
Single didn't chart

1st LP release: Elvis Presley - March 23, 1956

Click to download or buy
"I'll Never Let You Go"
now from Amazon!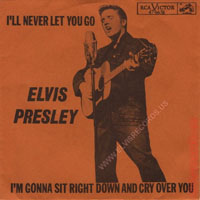 or download from iTunes:


For other versions, see
Lyrics and Downloads section below.