Written by: Leon Payne

Recorded: July 5, 1954, Sun Studio, Memphis
Released master by RCA is a splice of takes 3 and 5, without the spoken bridge.
Take 2, with the spoken bridge, was released in 1974 on A Legendary Performer, Vol. 1.

Single:w/ "Tryin' to Get to You", 47-6639, August 1956
Also released on RCA, 78rpm, 20-6639, August 1956
Also re-released as Gold Standard Series, 447-0612, September 30, 1958
Also re-released as Collectables DPE1-1005 4505, December 1986.

Highest U.S. Charts Positions:
Single didn't chart

1st LP release: Elvis Presley - March 23, 1956

Click to download or buy
"I Love You Because"
now from Amazon!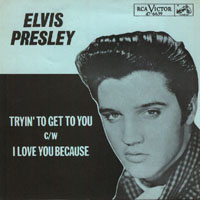 or download from iTunes:


For other versions, see
Lyrics and Downloads section below.