Written by: Joe Thomas, Howard Biggs

Recorded:
January 31, 1956, RCA Studios, New York City
Released master is take 18.

Single:w/ "I'll Never Let You Go (Little Darlin')", 47-6638, August 31, 1956
Also released on RCA, 78rpm, 20-6638, August 31, 1956
Also re-released as Gold Standard Series, 447-0611, September 30, 1958
Also re-released as Collectables DPE1-1004 4504, December 1986.

Highest U.S. Charts Positions:
Single didn't chart

1st LP release: Elvis Presley - March 23, 1956

Click to download or buy
I'm Gonna Sit Right Down and Cry (Over You)
now from Amazon!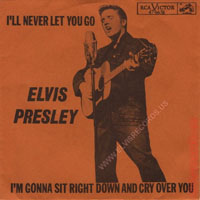 or download from iTunes:


For other versions, see
Lyrics and Downloads section below.