Written by: Claude Francois, Gilles Thibault, Jacques Reveaux (English words: Paul Anka)

Recorded: June 10, 1971, RCA Studio B, Nashville
Released master take number is unknown.
First released version recorded on January 15, 1973, live at the International Convention Center Arena, Honolulu
Single version recorded on June 21, 1977, live in Rapid City, South Dakota.

Single:w/ "America The Beautiful", PB-11165, October 3, 1977
Also released as Gold standard series original w/ "Way Down", GB-11504, May 1979

RIAA Certified: Gold (as of 01/13/1978)

Highest U.S. Charts Positions:
#22 on Billboard's Hot 100
#31 on Cash Box Top 100
#6 on Billboard's Easy Listening chart
#2 on Billboard's Country Best-Seller chart

1st LP release: Aloha from Hawaii Via Satellite - February 4, 1973

Click to download or buy
"My Way"
now from Amazon!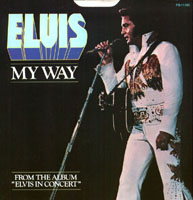 or download from iTunes:




For other versions, see
Lyrics and Downloads section below.