Written by:
Authorship of original tune unknown ("Adeste Fideles"), although attributed to John Francis Wade.
English lyrics by Frederick Oakeley

Recorded: May 16, 1971, RCA Studio B, Nashville
Released master is take 1.

Single:w/ "Merry Christmas Baby", 74-0572, November 9, 1971

Highest U.S. Charts Positions:
Didn't chart

1st LP release: - October 20, 1971

Click to download or buy
"O Come, All Ye Faithful"
now from Amazon!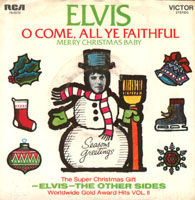 or download from iTunes:


For other versions, see
Lyrics and Downloads section below.