Written by: Jerry Leiber, Mike Stoller

Recorded: September 7, 1957, Radio Recorders, Hollywood
Released master is take 7

Single: w/ "Blue Christmas", 447-0647, Gold Standard Series original release, October 26, 1965. This single has been re-released numerous times afterwards for the holidays through the years.
Also released w/ "Merry Christmas Baby", PB-41237, November 1985. Pressed on green vinyl.

RIAA Certified: Platinum (as of 07/15/1999)

Highest U.S. Charts Positions:
#1 on Billboard's special Christmas Singles chart

1st LP release: Elvis Christmas Album - November 1957
Click to download or buy
"Santa Claus Is Back In Town"
now from Amazon!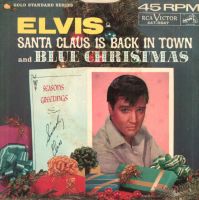 or download from iTunes:


For other versions, see
Lyrics and Downloads section below.