Written by: Jerry Leiber, Mike Stoller, Doc Pomus

Recorded: March 20, 1962, RCA Studio B, Nashville
Released master is a splice of take 3 and a work part, take 5, for the ending.

Single:w/ "Just Tell Her Jim Said Hello", 47-8041, July 17, 1962
Also re-released on Gold Standard Series, 447-0637, May 14, 1963

RIAA Certified: Gold (as of 03/27/1992)

Highest U.S. Charts Positions:
#5 on Billboard's Hot 100
#4 on Cash Box Top 100
#13 on Billboard's Rhythm & Blues chart
#2 on Billboard's Easy Listening chart

1st LP release: Elvis Golden Records Vol 3 - September 1963
Click to download or buy
"She's Not You"
now from Amazon!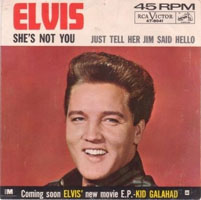 or download from iTunes:


For other versions, see
Lyrics and Downloads section below.