Written by: William J. Raskin, Billy Hill, Fred Fisher

Recorded:
Personal demo: 1953 (possibly July 18), Sun Studio, Memphis.
"Million-dollar Quartet" version: December 4, 1956.
Commercial recording: January 13, 1957, Radio Recorders, Hollywood
Released master is spliced from takes 7 and 14.

Single:w/ "All Shook Up", 47-6870 (20-6870 for 78rpm), March 1957
Also re-released as Gold Standard Series, 447-0618, March 1959

Highest U.S. Charts Positions:
#58 on Billboard Hot 100

1st LP release: Elvis Golden Records Vol 1 - April 1958

Click to download or buy
"That's When Your Heartaches Begin"
now from Amazon!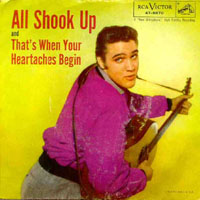 or download from iTunes:


For other versions, see
Lyrics and Downloads section below.