Written by: Bert Carroll, Russell Moody

Recorded: February 1, 1958, Radio Recorders, Hollywood
Released master is take 22.

Single:w/ "Doncha' Think It's Time", 47-7240, April 1, 1958
Also released on 78rpm, 20-7240, April 1, 1959
Also re-released on Gold Standard Series, 447-0622, September 8, 1959

RIAA Certified: Platinum (as of 03/27/1992)

Highest U.S. Charts Positions:
#1 on Billboard's Hot R&B Singles
#2 on Billboard's Hot 100
#3 on Billboard's Hot Country Singles

1st LP release: 50,000,000 Elvis Fans Cant Be Wrong, Elvis Gold Records, Vol 2 - December 1959
Click to download or buy
"Wear My Ring Around Your Neck"
now from Amazon!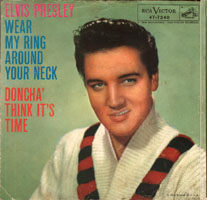 or download from iTunes:


For other versions, see
Lyrics and Downloads section below.