Written by: Baker Knight

Recorded: February 19, 1970, live at the International Hotel, Las Vegas

Single:w/ "Mama Liked the Roses", 47-9835, April 20, 1970
Also re-released as Gold Standard Series, 447-0676, August 1971

RIAA Certified: Gold (as of 08/14/1970)

Highest U.S. Charts Positions:
#1 on Billboard's Easy Listening chart
#9 on Billboard's Hot 100
#10 on Cash Box Top 100
#37 on Billboard's Country chart
Also: -In the U.K., this was one of Elvis' most successful singles, staying at #1 for 6 weeks.
-In Ireland, it also reached #1.

1st LP release: On Stage - February 1970 - June 23, 1970

Click to download or buy
"The Wonder of You"
now from Amazon!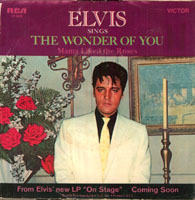 or download from iTunes:


For other versions, see
Lyrics and Downloads section below.