Written by: Bert Kaempfert, Kay Twomey, Fred Wise, and Ben Weisman
(Adapted from the German folk song "Muss I Denn Zum Stadtele Hinaus")

Recorded: April 28, 1960, RCA Studios, Hollywood
Released master is take 4.

Single: w/ "Blue Christmas", 447-0720, Gold Standard Series original release, November 3, 1964
Also released w/ "Puppet On A String", 447-0650, Gold Standard Series original release, October 26, 1965

Highest U.S. Charts Positions:

Didn't make Billboard's Hot 100 but was listed as "Bubbling Under" at #107 for the first single and at #110 for the second.
Although not successful as a single in the U.S., "Wooden Heart" made it to #1 in the UK, Austria, Australia, Belgium, Holland and South Africa. In Germany, it only made it to #2.

1st LP release: G.I. Blues - October 1960
Click to download or buy
"Wooden Heart"
now from Amazon!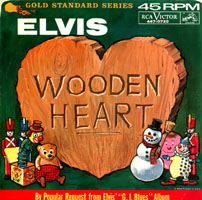 or download from iTunes:


For other versions, see
Lyrics and Downloads section below.