Written by:
Original Italian song "Io Che Non Vivo (Senza Te)" written by Vito Pallavicini and Pino Donaggio
English lyrics written by Vicki Wickham and Simon Napier-Bell

Recorded: June 6-7, 1970, RCA Studio B, Nashville
Released master is take 3.

Single:w/ "Patch It Up", 47-9916, October 6, 1970
Also re-released as Gold Standard Series, 447-0678, February 1972

RIAA Certified: Gold (as of 03/27/1992)

Highest U.S. Charts Positions:
#1 on Billboard's Easy Listening chart
#10 on Cash Box Top 100
#11 on Billboard Hot 100
#56 on Billboard's Country chart

1st LP release: Elvis Thats The Way It Is - November 11, 1970
Click to download or buy
"You Don't Have To Say You Love Me"
now from Amazon!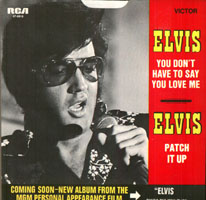 or download from iTunes:


For other versions, see
Lyrics and Downloads section below.