Written by: Stanley Kesler, Charlie Feathers

Recorded: July 11, 1955, Sun Studio, Memphis
Released master take number is unknown.

Single: w/ "Mystery Train", Sun 223, 45rpm and 78rpm, August 6, 1955
Also re-released on RCA, 47-6357, (78rpm, 20-6357), December 2, 1955
Also re-released as Gold standard series, 447-0600, September 30, 1958

Highest U.S. Charts Positions:
#1 on Billboard's Country Juke Box chart
#1 on Billboard's Country Best-Seller chart
#4 on Billboard's Most Played by Jockeys chart

1st LP release: A Date With Elvis - September 1959


Click to download or buy
"I Forgot to Remember to Forget"
now from Amazon!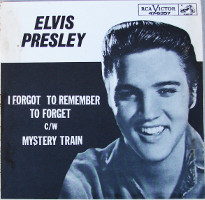 or download from iTunes:


For other versions, see
Lyrics and Downloads section below.