Written by: James Taylor

Recorded: January 15, 1973, live at the International Convention Center Arena, Honolulu

Single:w/ "Fool", 74-0910, March 4, 1973
Also released on Gold Standard Series, w/ "Burning Love", GB-10156, March 1975

Highest U.S. Charts Positions:
#17 on Billboard's Hot 100
#10 on Cash Box Top 100
#31 on Billboard's Country chart

1st LP release: Aloha from Hawaii Via Satellite - February 4, 1973
Click to download or buy
"Steamroller Blues"
now from Amazon!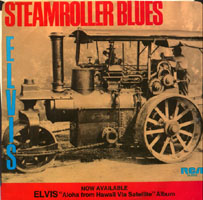 or download from iTunes:


For other versions, see
Lyrics and Downloads section below.