Written by: Hy Zaret, Alex North

Recorded:
(Moody Blue album version) April 24, 1977, live at Crisler Arena, Ann Arbor, Michigan
(single version / Elvis In Concert version) June 21, 1977, live at Rushmore Civic Center in Rapid City, South Dakota

Single:w/ "Softly as I Leave You", PB-11212, March 1978
Also released on Gold Standard Series, w/ "Are You Sincere", GB-11988, May 1980

Highest U.S. Charts Positions:
#6 on Billboard's Country Chart

1st LP release: Moody Blue - July 19, 1977
Click to download or buy
"Unchained Melody"
now from Amazon!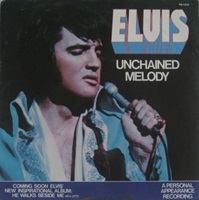 or download from iTunes:


For other versions, see
Lyrics and Downloads section below.