Written by: Red West, Elvis Presley, Charlie Hodge

Recorded: March 18, 1962, RCA Studios, Nashville
Released master is take 3.

Single:w/ "Do The Clam", 47-8500, February 9, 1965
Also re-released as Gold Standard Series, 447-0648, October 26, 1965

Highest U.S. Charts Positions:
Didn't chart, but listed in Billboard as "Bubbling Under" at #121

1st LP release: Girl Happy - April 1965

Click to download or buy
"You'll Be Gone"
now from Amazon!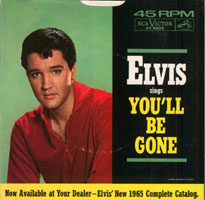 or download from iTunes:


For other versions, see
Lyrics and Downloads section below.