Written by: Johnny Christopher, Mark James and Wayne Carson

Recorded: March 29, 1972, RCA Studio C, Hollywood
Released master is take 1.

Single: w/ "Separate Ways", 74-0815, October 31, 1972
Also re-released as Gold Standard Series, GB-10486, February 1976
Also released as single w/ "The Elvis Medley", PB-13351, November 1982
Also released as single w/ "My Boy", PB-14090, July 1985

Highest U.S. Charts Position:
#16 on Billboard Country Singles chart


1st LP release: Separate Ways - December 1972
Click to download or buy
"Always On My Mind"
now from Amazon!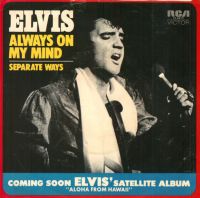 or download from iTunes:


For other versions, see
Lyrics and Downloads section below.