Written by: Sid Tepper, Roy C. Bennett

Recorded: June 10, 1964, Radio Recorders, Hollywood
Released master is take 11.

Single:w/ "Wooden Heart", Gold Standard original release 447-0650, October 26, 1965
Also released w/ "(Let Me Be Your) Teddy Bear", on PB-11320, August 1978

RIAA Certified: Gold (as of 03/27/1992)

Highest U.S. Charts Positions:
#14 on Billboard's Hot 100
#15 on Cash Box's Top 100
#3 on Easy Listening chart

1st LP release: Girl Happy - April 1965

Click to download or buy
"Puppet On a String"
now from Amazon!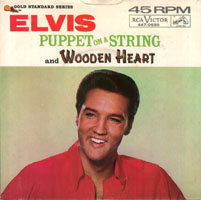 or download from iTunes:


For other versions, see
Lyrics and Downloads section below.