Written by: Arthur (Big Boy) Crudup

Recorded: July 5, 1954, Sun Studio, Memphis
Released master is possibly take 4.

Single:w/ "Blue Moon Of Kentucky", Sun 209, July 19, 1954 - Elvis' very first single
Also re-released on RCA, 45rpm, 47-6380, November 1955
Also re-released on RCA, 78rpm, 20-6380, November 1955
Also re-released as Gold Standard Series, 447-0601, March 1959
Also re-released as RCA PB-13891, October 1984. "50th Anniversary" label, gold vinyl.

RIAA Certified: Gold (as of 06/25/2004)

Highest U.S. Charts Positions:
Didn't chart nationally, but reached #4 on local Memphis chart.

1st LP release: For LP Fans Only - February 1959
Click to download or buy
"That's All Right"
now from Amazon!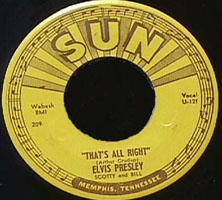 or download from iTunes:


For other versions, see
Lyrics and Downloads section below.